I am linking up with
Doodle Bugs Teaching
for another round of Five on Friday. Yes, I know I am a little late! Whoops!
1)
Facebook Character Activity
We just finished one of my all time favorite books, Because of Winn-Dixie. I seriously L-O-V-E that book.
There are so many interesting characters in the novel so I really wanted to do some sort of character project. I had seen some really cute projects using Twitter or Facebook formats and found this FREE template on
freeology.com.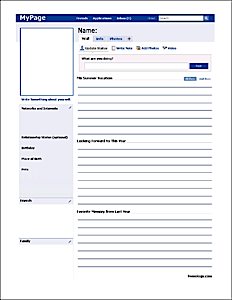 (
Click on the Picture to download your own copy
)
My kids really worked hard on their profile sheets! I wish I would have snapped a few pics but I didn't. They were also pretty impressed that I knew some FB lingo. :)
2)
Because of Winn-Dixie Party
At the end of Because of Winn-Dixie, all of the characters get together for a big party. On Friday we recreated the party in our classroom. The kids decorated their desks with streamers and we had pickles, "Dump Punch" (orange juice and 7up), Litmus Lozenges and brownies. (In the book they had egg salad sandwiches but I did not have access to a fridge so I subbed brownies....the kids didn't seem to mind. :) )
Then we watched the movie version. I have to say I really prefer the book over the movie but it was a still a nice way to end our week and wrap up our novel.
3)
Assessment/Data Binders are D-O-N-E! (Thank goodness!)
This year we are implementing assessment binders at my school. We turn them into our administrators every 8 weeks to be reviewed. Ours were due Friday. I'm so glad to get rid of those binders for awhile!! Don't get me wrong, in some ways I really see the benefit and like the idea but they are a lot of work!
Okay, okay enough about school...it is the weekend after all! I am also in love with my new mani. It is pintrest inspired and basically looks like this:
Except my heart is dark pink. The pin is a tutorial but I am the worst manicurist ever so I treated myself with a trip to the nail salon. I never get my nails done because I just can't justify spending the money but I splurged this morning and I am so happy I did. :) It's the little things!
I hope you all are having a wonderful weekend! Now I am off to blog stalk.......
PS I am at 98 followers. If your not following yet please clickity -clackity on the followers button. Pretty, pretty please! :)